GRIMES INTERVIEW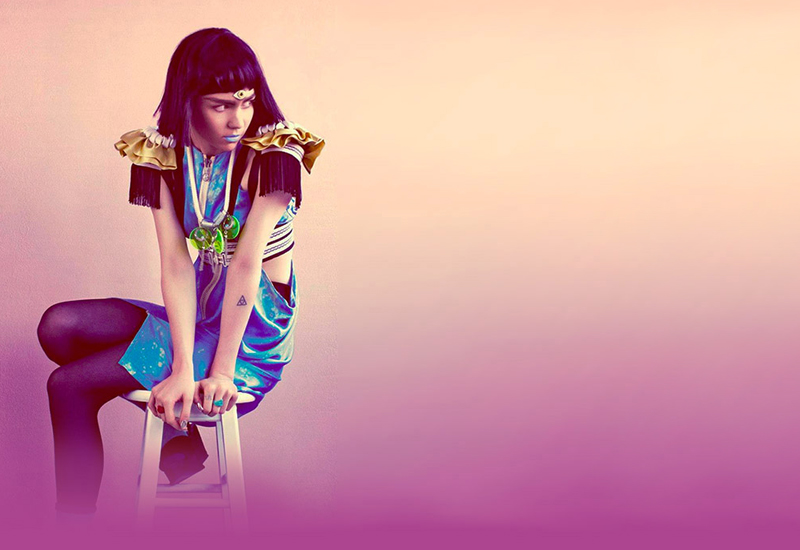 Anyone who can create a handful of music videos garnering near on fifteen million views without sucking on a blood-stained tampon, drunkenly falling through a glass table whilst dancing the Macarena, shamefully exploiting their sexuality or defecating into a plastic cup with a lipstick lesbian has to be doing something right. And whilst Grimes continues to spark insightful daily debates in regards to the quality of her artistic vision via the YouTube commenting system – one can only hope she's not losing too much sleep whilst travelling the world doing what she loves, performing for enamoured festival audiences and mixing with some of the most influential artists of our generation.
"missbunnylover8: this was a waste of time! i can not belive this is music, what has this world come to?"
"DysfunctionalBubble: Is this what hipster vomit looks like?"
"Hank Fries 1: Wow. proof that music can go backwards. Before she sold music to art school wannabes she was one herself."
"P715R: this such pretentious nonsense. Just a cheap loop via some software with soft girl whisper ramblings. Complex ideas made into a granola bar."
"edwin emanuel posse: U are just jalous of Justin bieber like anyone else……..,if music is talented like Justin Bieber he gets mor views on Youtube, if Griimes was that good she would have more views, number of views dont lie !!"
"DrizzyTylerFilms: What in the penis fuckstain did i just watch?"
Well, DrizzyTylerFilms, if that is your real name, you just watched a penis fuckstain lame 80s throwback waste of time art school wannabe hipster vomit granola bar get a hundred thousand times more views with her shitty, pretentious nonsense, cheap loops and soft-girl-whisper-ramblings than every one of you boring, negative and awful grammar afflicted dickheads combined. And, edwin emanuel posse, if it was possible for music to transcend reality and become its own sentient, "talented" entity, she might very well be less jalous [sic] of, and be as popular as, Justin Bieber (whom Griimes* is an outspoken supporter of).
The insidious rise of the internet has provided a dubious platform of pulpits and spawned a completely new anti-culture of anonymous keyboard preachers. A group of self-appointed missionaries hell-bent on raining fiery judgments down on anyone brave enough to vacate the pew of insipid mediocrity and dash naked and exposed through plagues of criticism and irrational crucifixions to higher, albeit not safer, ground. Buoyed on with illusions of grandeur, a lack of any repercussions and with their fingers loaded with jealousy, insecurity and the absence of intelligent discourse – these enlightened individuals are helping to collectively plunge humanity back down the sinkhole Adam and Eve so optimistically crawled out of six thousand years ago, when God choked on his own saliva and our universe was reluctantly born.
Apparently, it's easy to forget that it's the very same heightened awareness and sensitivity that allows these artists to present emotions and personal experiences in an accessible way, that leaves them vulnerable to poisonous negativity when it bounces back so wantonly. Famous personalities are real people and are on the same journey of difficult introspective questions as everyone else.  Because someone wrote a catchy song doesn't mean they spontaneously mutate into an infallible emotional fortress. And whilst we don't all have to dance around in circles, barefoot, holding hands amidst fluttering pink spring blossoms and sing the praises of every artist operating in every medium; we should all respect and note the legitimacy of each individual's right to genuine expression – because there is a marked distinction between the prerogative of one's own taste and shameless, vitriolic, uninformed criticism.
In circumstances such as these, to achieve a balance of opinion and truth one must turn to the facts:
'Grimes' is the artistic identity of 24-year-old Canadian artist, Claire Boucher – who is primarily known as a producer/singer/songwriter but who is also fruitfully working as a music video director and visual artist in her own right. Born from the embryonic fluid of Montreal's electronic, psychedelic rave scene, Boucher has no problem candidly revealing her struggles with drugs, death, failed relationships, a psychologically damaging assault and difficult living conditions. All of which culminated in her locking herself away from the world, not eating for nine days, falling into a delirious trance and channelling the inspired outpouring of borderline religious soundscapes that became her last critically acclaimed studio album, Visions.
The most popular way to describe Grimes' music is to randomly cut and paste a few vague, hyphenated adjectives like indie-tronica, dream-pop, synth-rave, punk-hop or dark-wave from a tumblr blog full of gifs of her blowing bubbles or walking through smoke. Then blindfold yourself and throw a handful of darts at a wall covered with synonyms of ethereal, before rounding it out with some lovechild references that include the names Enja, Björk, Lady Gaga, Marilyn Manson, Aphex Twin and Mariah Carey.
Of course, it's impossible and unappealing for an artist to create work that appeals to everyone, and Grimes' music is appealingly shameless in its enigmatic nature. Her music is, inescapably 'poppy' – and if you just don't dig aerial feminine vocals you're going to struggle to pick up what Grimes is putting down. That said, her exploration of hypnotic simplicity does express an acutely interesting and developed understanding of composition, layering, production and the way she manipulates her voice as her primary instrument blended with drum machines, synths and keyboards creates undeniably agreeable grooves. Her music videos might communicate a similar visual naiveté to a "high school art project", but the obviously D.I.Y nature of them is exactly what makes them so interesting and ultimately enabling for those who are interested in following a similar path. There is, after all, a deep black infinity between sitting around at home and waxing lyrical about your pipe dreams and actually walking out the door, exposing yourself to criticism and making things happen.
Liberated, self-aware and driven – Grimes is the unfortunate bearer of a number of enviable character traits in a world of unfulfilled and spiteful individuals. Luckily, for those that are happy to celebrate and appreciate energy being put into interesting places, she is leaving behind an ever-evolving body of work that reflects her development as a human being and as an artist pushing towards something that is uniquely hers. She is a perfect example of an expressive entity that has grown up immersed in internet culture, absorbing hundreds of influences across every medium and colouring her expressions with tasteful references and varied areas of interest. Having enjoyed international success and achieved more before her 25th birthday than most manage in their entire lifetimes – Grimes, as she matures, evolves and collaborates will continue to challenge perceptions, blur the line between mediums, grow her fan base, garner hoards of detractors and cement herself as one of the most polarising artists in popular culture.
______________________________
Grimes: ……….I like it when it's raining; I think rain is nice because it forces you to stay inside. I just feel more comfortable working if it's raining, because I don't really know what else I would be doing…
James: and you don't feel that little bit of guilt for being inside on a sunny day…
Grimes: Yeah, exactly.
James: In regards to repetitive journalistic lines of enquiry, it must get tiring being continually asked about music that you've made a long time ago…
Grimes: Yeah…
James: …and you said you feel as if you've moved on from it, which is fair enough. I was wondering what kind of music you're interested in at the moment?
Grimes: I've been working on just becoming a better producer and watching more tutorials and reading a lot of stuff. I learned a lot on the Skrillex tour, watching all these world-class producers for a week really inspired me so I've been working hard, trying to make really high-fi, aggressive music. Aggressive in the sense that Nine Inch Nails or dubstep could be kind of aggressive – it's electronic but it's aggressive, it's not a kind of distortion, it's still pretty clean and crisp. I'm working on really strong hooks, but trying to bring the vocals up a lot in the mix and have the vocals a lot clearer; because I want to make something that's a lot more accessible, that could potentially compete on the radio, but that's also a lot darker than Visions and more industrial.
I think Visions was really repetitive, all the beats were just the same through every song, production wise it was very simple and basic and I'm just trying to make something more complex. As far as references go, especially vocally, the song I was working on yesterday was sort of a dubstep version of Desert Rose by Sting….Plus the shows I've been playing have been getting a lot more aggressive, especially vocally. I just wanted it to be a lot harder I guess, I want to be way more intense and much louder.
James: Has the attention and critical acclaim changed the way you feel about yourself and your work?
Grimes: Well, that's a really interesting point, or place, or thing for me to think about. All the critical stuff has been really good because I've just become a lot more confident as a musician and as a person in general because of it. But at the same time, I think it's really important to avoid it as much as possible because I don't want to have to feel like I have to meet any expectations or if that I do something really crazy, I don't want to worry about alienating my fans. I don't want to alienate fans, but I just don't want to limit myself creatively because of what I think the public or press might think. So that's one of the reasons I don't read any of my press, I never look at any of that stuff, because I think it's kind of bad, but it's nice to know it exists because it is really awesome, obviously, to be successful as an artist…I feel like it's a kind of rare thing.
James: You talk about your music being instinctive and that "you're naturally rhythmically orientated". You knew you could sing before you started singing and you talk about your voice as an instrument. Can you describe the relationship you have with your voice?
Grimes: It's an interesting one because sometimes I hate it. I feel that vocalising is a really basic thing that human beings do and languages like Mandarin that are tonal, indicate the relationship between singing and speech. A lot of my friends are always just kind of jokingly singing and they can sing really well but when they have to sing seriously they get really nervous; I just feel that singing is really a confidence thing more than anything else. Obviously, you can train and become a very technical singer but I just think it's something that anyone should be able to do in theory.
I've been working on playing other instruments, but when I started making music my voice was the only thing I really had to work with so it wasn't entirely electronic. I just used it a lot because as far as production goes, the human voice is so rich and has so many harmonics that you can't achieve in a MIDI program. I really like the sound of having everything so electronic and kind of cold and robotic on one hand and having a strong vocal element on the other.
James: I guess it gives the music a human presence so it's not all from a machine, it's coming from inside of you, so to speak.
Grimes: Yeah, otherwise it's a lot colder, it's kind of intense to have something that's so electronic. I've been working a lot more with sampling and also playing some instruments a bit – I'm kind of getting away from that sound entirely.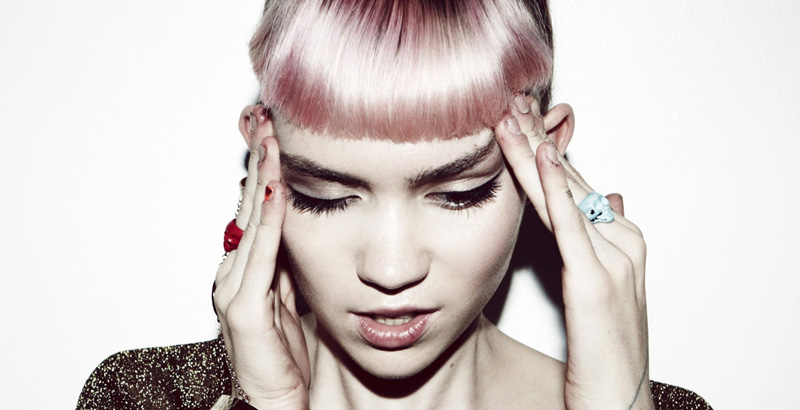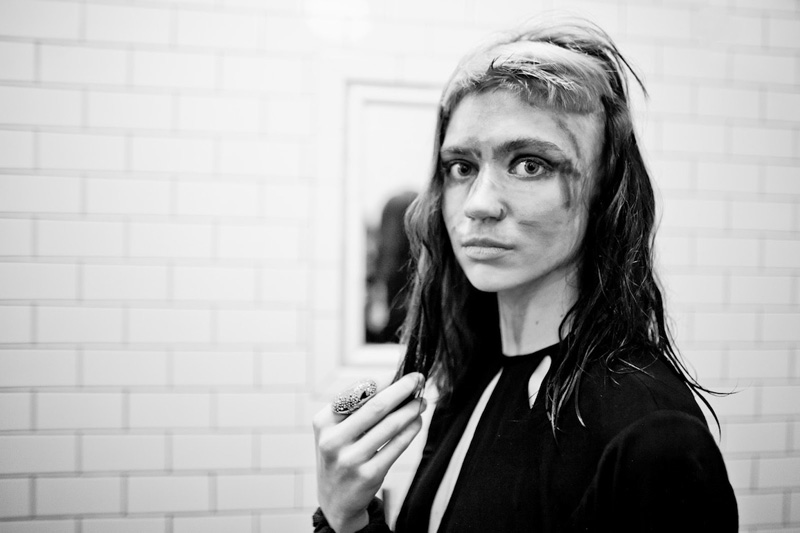 James: You talk about visual art and how you thought it was really referential. Is that something you're trying to avoid or embrace in your music?
Grimes: I think referencing things isn't invalid at all. I think it's sort of a weird idea that people have that art is created in a vacuum, but art was never created in a vacuum. That's why when you look at trends in music over the last thousand years, they've been moving a lot faster, not because people are smarter, but because there are more references that you can see. In the 1800s everyone just made classical music basically, because there weren't a tonne of other instruments and it's not like everyone was making really original music back then or anything.
I feel that all music just references the ways of music before it; I've just never heard any music that kind of existed in a vacuum that did something totally different without referencing anything else. But I think being able to make interesting references requires a certain level of intelligence and I think a lot of the best music is hip hop and totally sample based music, because taking the best of the pool of music is obviously going to give you a better product at the end of the day.
James: Who was that band? They were all sisters…their dad made them play music but didn't teach them anything conventional and they weren't allowed to listen to any other music in case it influenced them, and they played out of rhythm, out of key…
Grimes: Oh are you talking about The Shaggs?
James: Yeah, there's a certain brilliance about them…
Grimes: Yeah, I love that album, they're awesome.
James: I read that you had this sort of ethos that was based on Dune, which I haven't read, but I've seen the film, it had this nice line which said, "fear is the mind killer…"
Grimes: [Laugher]
James: You said, "being afraid is the thing that's gona hurt you more than anything else" – which is a poignant ideology.
Grimes: Yeah…
James: Can you talk about that? Are you consciously trying to live and create fearlessly?
Grimes: I think you should read the book because the movie doesn't really make sense without the book, but that's a side note…it's an unbelievable book. Anyway, my dad actually made us memorise the entire passage that quote is from when I was five years old, so I can recite the entire monologue that quote comes from. My dad's a pretty weird guy, when I was growing up Dune and The Lord Of The Rings were the moral or ethical guidelines by which me and my brothers were raised, they were dad's two favourite books.
It's sort of weird but I think it's really important to do things that scare you or try to confront things that scare you, it's just always better, at least for me. I like doing things that terrify me because it's how I get to the next level. I just like confronting things that are scary and not letting my fear of something change my approach to it, as much as possible.
James: In regards to art making, you say that "just starting is really important". How significant is it to just do things and improvise and create in the moment in regards to your artistic ethos and outputs?
Grimes: It's pretty important to me actually, if I have to work on something for more than a couple days I usually have to throw it away because in production I write as I produce, so I'm constantly listening to the song that I'm working on as I'm making it. Opposed to writing on a guitar and recording it, it'll be like twelve hours listening to the same beat. So if I have to push it too far I just get sick of it and I can't do it anymore. I rely pretty heavily on being able to just improvise through until I've got a song done. It just seems more free that way, I usually keep the first or second vocal take. If I have to do a vocal take over and over and over again, I usually stop being able to do it and I just can't do it and I have to throw it out. It's a weird psychological thing, but outside of music I don't really approach things like that, it's just with music specifically it kind of needs to be that way.
In a live set I think it's roughly 20 or 30% improvised, there's obviously stuff that I do every time, but I think it kind of makes it easier to play live because if I screw up it's really easy to move through it without anyone noticing and also I would get so fucking bored if I had to play the same set every day.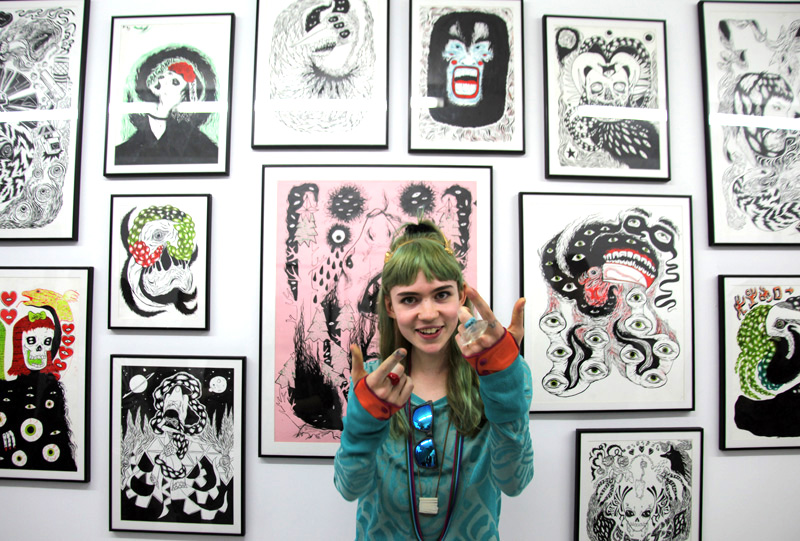 James: I find the esoteric nature of your lyrics interesting because a lot of the time it's actually quite hard to discern what you're singing, which is obviously a conscious stylistic decision on your behalf. It's also noteworthy because you're so articulate yourself,  but choose to strip it back to such a lyrically simple, ambient pop aesthetic.
Grimes: For me the music, the whole writing process is really…I don't want to say "trance like" – but I usually just get into this really weird headspace, it's not a logical calculating thing necessarily. I feel like after the fact it's easy for me to go back and articulate something that I've done and be able to talk about it or intellectualise it or whatever, but as far as actually recording, it's kind of just a …I hate the word 'spiritual' but I guess it's kind of a spiritual thing or something. So it's hard for me when I try to write lyrics too much, it kind of interferes with that.
Although lately I've been working on tracks then listening to them when I'm not working on them, then writing lyrics and going back to put them in. I do think that's the thing that I really need to work on. I always thought I didn't care but then I look at someone like Joanna Newsom, her lyrics are so incredible you just have to listen to everything she's saying. I think it's a really powerful thing when you can bring lyrics into music and actually make them good, it's just that…I don't know, at least when I started I didn't think I could do that. I didn't want to have lyrics that were…not great. I mean I obviously write lyrics, especially on Visions, but they're still pretty obtuse.
It's the next logical next step, starting to have actual real lyrics, it would bring everything to the next level, but I'm a science kid, I was never good at English, I was in the remedial English at high school.
James: That's almost hard to believe…
Grimes: I think I have some weird learning disorder actually; I've really thought about it and talked through it with my parents a lot. I think I'm just mildly dyslexic. Every essay I've ever written the teacher has pulled me aside and been like, "I had to take you down an entire letter grade because your spelling is just so bad".
James: You draw and paint as well as make music and do all your own album covers…
Grimes: Yep…
James: I was wondering if you could talk about your interest in visual arts. 
Grimes: Well the visual stuff is something I've been doing for a lot longer, and it's more of a calculated thing. I could just be like, "OK I'm going to draw a cow" and I could just sit down and draw a cow, where with music if I'm like, "hmm I want to make a dubstep beat" then I'm going to have to go listen to a bunch of dubstep and think about it and try to think about how to make a dubstep beat. It's just a totally different process because I'm way better at it I guess.
Music is kind of a weird escapist thing, it's more in my head, it's also way more solitary – whereas drawing is something that fulfils a more mathematical need within me or something. I still think creativity comes from the same place, and I do access a lot of the same things that I would with music. When I was living in Montreal, my upstairs neighbours were my best friends and they had a bunch of TVs that were always on, we'd just sit around and everyone would draw and just watch horror movies. It's always been a social thing, I would sit with my friends and everyone would be drawing, and we'd be talking, and I'd be like, "should I do this or this?"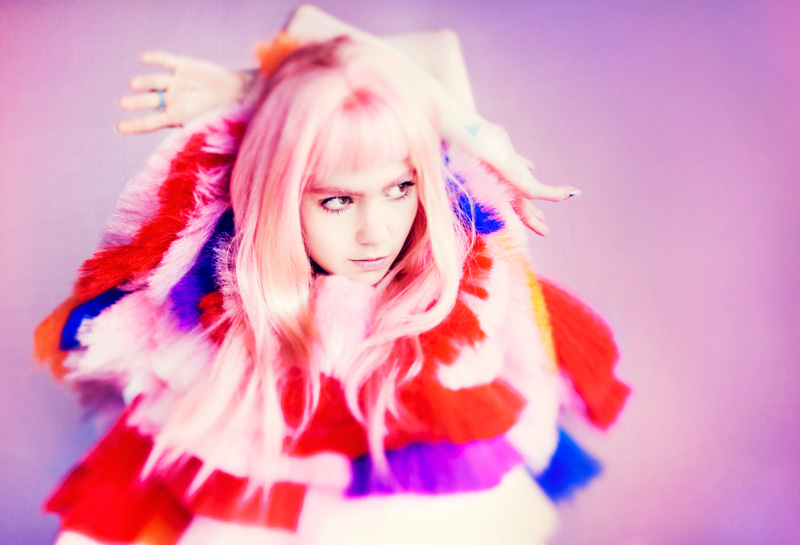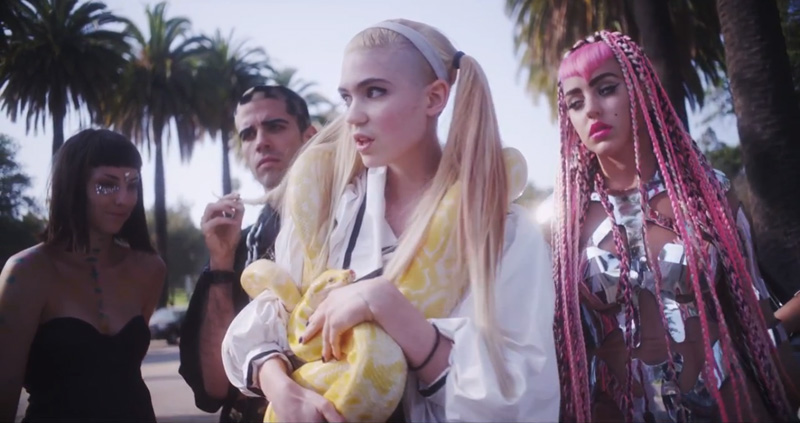 James: Your visual outputs tie into your music videos because you direct as well as feature in them. Can you talk about your development and exploration into music videos and how they're pastiches of visual languages that you have an affinity for?
Grimes: I actually started directing because we had a grant to make the first Grimes video, which actually isn't out because it's terrible. I was working with this director, he was being really mean to everybody and he kept trying to get me to do sexy stuff and there were just all of these problems around it and I was like, "fuck, I guess I just need to direct my own videos because I absolutely can not have this experience again" – especially because it was just a waste of money. I can't put out something bad, but the Canadian government paid for it, so it was just depressing on so many levels. So I just started directing out of necessity but after the first time, I did it I realised I might enjoy it more than making music. It's just a really, really fun thing to do and very easy, and usually the crew and everyone are my friends so it's just kind of this big social thing.
You can do so much, having audio and visual elements at the same time is just a really powerful thing, there's a lot of potential for music videos. I've always been obsessed with music videos since I was a kid, the main reason I got into weird music in the first place was because I remember seeing The Beautiful People video by Marilyn Manson on TV and my parents just freaked out they were like, "this is evil, this is the devil" – I was just like, "woahhhhh, it's so crazy, it's so intense and scary" and I just became obsessed with Marilyn Manson, but especially the art direction associated with his projects. If you took away Marilyn Manson's music videos you're taking away a huge aspect of what he's doing artistically. So even when I first started making music I really wanted to make music videos, even though I didn't really know how.
James: Your Genesis video was a real clash of symbolic and contemporary imagery…
Grimes: I wanted it to be a sort of contemporary Tarantino rendering of how my childhood brain perceived medieval Catholic imagery. I went to a Catholic school and I always saw Catholicism as just this kind of action movie. From a pretty young age I was like, "OK I don't believe in god, I think this is ridiculous" – but I thought it was a cool mythology because it's so dark and violent and fucked up. So I figured it would be really cool to make all the characters these kind of quasi-anime Tarantino action girls. That was kind of the main theme, but then you know with music videos in general, I like to shout-out pop music. I'm always just trying to take elements of pop music and mainstream culture and try to run them through the filter and the world I come from, which is like noise and punk and video art.
James: The shots at the start when you're in the headlights and the car is backing away from you is super reminiscent of Lost Highway…
Grimes: Yeah, it is very much like the opening credits of Lost Highway. That happened because we were running out of light and we didn't have any lighting because we were doing it on a tiny budget and then the camera guy was like, "we'll just start using the cars" – but it made a really awesome effect. All the car shots at night were totally improvised. At the very last minute as the sun was going down we just realised that it looked awesome to have all the lights on in the car and shoot like that so we got a tonne of great footage.
James: Your music is so electronic, do you think you still would have become so enamoured with music had you not had digital technology available to you?
Grimes: No. Definitely not. [Laughter] I am entirely reliant on computers, 90% of what I do musically is computers. I never thought that I could make music then someone showed me how to use recording software; I didn't even know about MIDI, I didn't know about sampling or production in general. So the minute I figured that out, I was just like, "OK fuck this I'm going to start making music" – until that point I was totally convinced it was impossible for me because technically I'm pretty bad at playing instruments.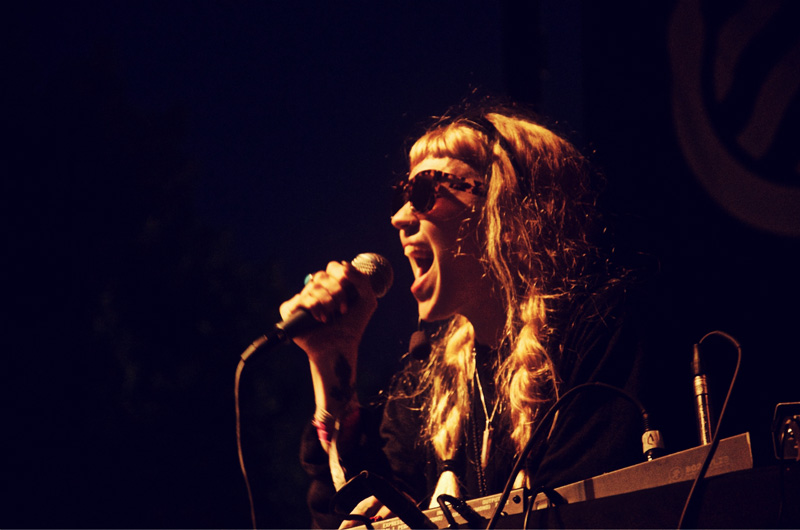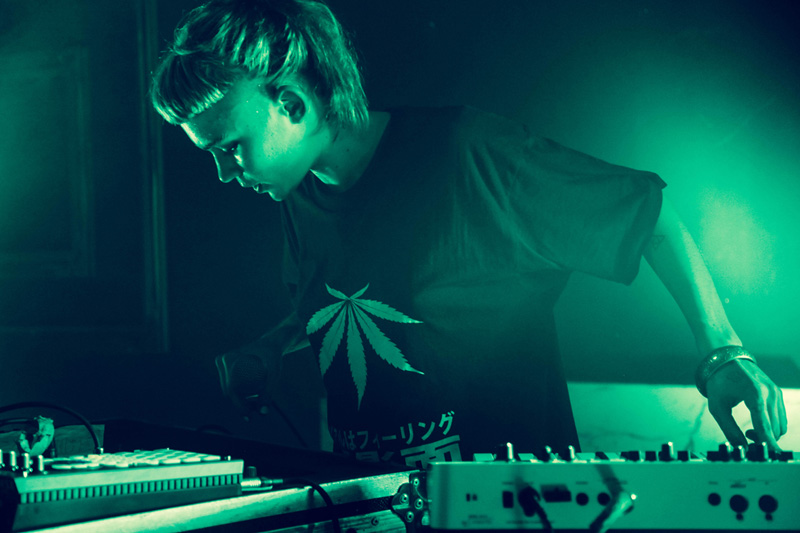 James: I was interested in the way you always seem a bit self-conscious as coming across as pretentious.
Grimes: [Laughter]
James: I always thought it was a shame that these things are perceived as being pretentious and not just interesting.
Grimes: I think it's because people are always like, "what are your favourite film makers?" – and my favourite film makers are David Lynch, Herzog and Tarkovsky, which are kind of the film school favourites…because they're awesome. I get accused of being a hipster so much, I don't think there's anything wrong with the word hipster, but I don't even know what it means honestly. I think people are quick to judge someone who is going to make a lot of references like that, but I feel like that's more something that was happening a couple of years ago. I feel like everything is opening up and everything is becoming fair game these days.
A couple of years ago Pitchfork wouldn't post anything about rap at all, you know what I mean? It was a very white male indie-rock kind of thing and, that was considered the only place that critical music was happening, whereas now people are a lot more open to all kind of things. So I think the pretentious tag isn't used as much, or as a criticism or at all…even the meaning of the word pretentious implies that you are pretending to know about something more than you actually do. I think it's kind of cool to be smart these days…it seems like it's kind of cool to have intellectual pursuits or it's not considered as much of a bad thing.
In the actual art that I'm making, it's not like you need to know the references to understand it. It kind of sucks that people are making art that really requires an education and a certain kind knowledge to be really able to get, I don't really think I do things like that too much.
James: You've mentioned before this idea of 'artistic activism'…
Grimes: I guess I find it difficult to bring any political stuff into what I'm doing artistically, but I'm pretty political, so in interviews or whatever I'm very willing to be political or talk about things. As far as anything I'm doing artistically, I just can't do it, because my artistic process is still so antilogical. I think making good art that is going to have a strident message about something requires an extra level of sitting and writing and thinking very critically about something, but that's so antithetical to my process generally. But as far as interviews or Twitter or whatever, yeah I'll be pretty outspoken I guess…
James: Lastly, in a couple hundred years when people are looking back to what was hip and enough time has gone by to romanticise our lives…
Grimes: [Laughter]
James: …what kind of body of work of yours would you like people to able to look back on?
Grimes:  I have a lot of things that I want to do. What I've done is good but it's more me just sort of figuring things out and doing what I'm capable of doing at the moment I think. I haven't really done the things that I want to do artistically yet. I guess I would just want to leave a legacy as a renaissance person, because I want to be known for being a producer not just a singer, and I feel like it's really easy, especially if you have a pop image, for people to just completely discount other aspects of your music that you might be involved with. Like Mariah Carey always expresses that she's upset that people don't credit her for being a writer, I would hate to fall into that trap. I feel like because of the music videos where I'm the front person that might be the case, so hopefully, I can be remembered as being a contributor to the world of songwriting and electro-acoustics as well.